RED AND BLACK LEATHER JACKET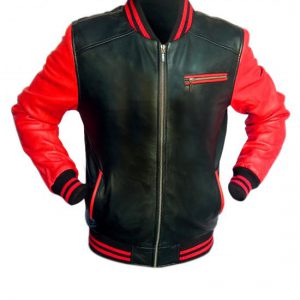 When it comes to winter fashion, leather jackets are the most popular of them all. They are the most common choice for anyone selecting a new winter jacket, and why not? Leather Jackets are a staple in our winter wardrobes, they are stylish, functional, beautiful, warm, and extremely comfortable. I mean, what more would you want in a jacket? Leather Jackets are probably the longest running trend in the fashion industry, and it seems like we experience a growing trend for these, every new season. These jackets are everywhere, our favorite celebrities wear them, they are perfect for street-style outfits, the most popular characters wear them, and everyone who wants to look bold, confident, effortless, and charming, definitely does have a leather jacket. Perhaps, the most popular leather jacket is the classic black leather jacket. And, if there's anything that makes it edgier, it is a Red and Black Leather Jacket.
FABRIC AND DESIGNS
For any leather jacket, the fabric is the most important feature. If the material quality isn't a 100% pure quality, the jacket will fail for its functionality, even if it is the most beautiful piece you have laid eyes on. We ensure you the purest quality for leather jackets, with an internal viscose lining, so you don't have to worry about feeling cold in the extreme weathers. For a Red and Black Leather Jacket, the combinations are limitless. You will find anything and everything there is to offer in red and black, because they are the two most loved colors for a leather jacket, and probably the favorite combination for it too. You can get a bomber leather jacket, or a varsity jacket, you can get any celebrity inspired Red and Black Leather Jacket, and there's always the classic black leather jacket with red stripes along the shoulder and sleeves.
CHOOSE YOUR STYLE
For thousands of variants available for leather jackets, you are sure to find something that suits your personality, and brings out the confident, sleek, and a little bit edgier side of you. And if not,
Custom Jacket Maker
allows you to design your own jacket with full assistance from them. You can choose from, the design, colors, add-ons, sleeves, and even material, so that you jacket reflects who you truly are.
NO LIMITS TO STYLING
The ways you can style a Red and Black Leather Jacket; well, the options are limitless. You can style it with a basic white T-shirt, black jeans, and black boots, to be at the top of your street-style game, or ladies can pair it with a beautiful black dress and high heels, and let the Red and Black Leather Jacket do all the talking. Men can wear it with a formal shirt and trouser combination, and steal the show with the fusion of formal and the edgier leather
jacket
.
Original Leather Jackets
are the heart of any winter wardrobe, and for the fashion-savvy community out there, it might just be the soul.
Red and Black Leather Jacket
is a versatile piece in any closet that can make your outfit ten times better without even trying, and maybe that's why people just can't get enough of this deadly combination.